Once a year we get a two week Christmas Break from school. It involves sleeping all day and eating all night, and occasionally singing some well known christmas carols such as fucking in the winter wonderland or how to get a christmas fuck buddy. However, eating is the most dominant one, for sure, and now we shall take a closer look at christmas time eating.
CHOCOLATE. You always buy some before christmas eve, then u get like 5 boxes from santa and ur set for ruining ur skin with pimples. But you just dont get enough of it, and during christmas time u dont have to feel guilty about eating it (not that we ever do ofc). For breakfast, lunch, dinner and always in between. If ur interested in getting us bagels a chocolatey present, dont get anything with marmalade and u should do fine. THANK YOU, we really appreciate it!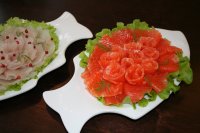 Fish. Oh so healthy and oh so good. Fish babies or grown up fish, we dont care. Even VB (veggie bagel , u know the vegetarianism duh) cant resist it. We personally like fish roe the best, but salmon is also super good on rye bread. During christmas time, fish is everywhere and we dont mind.
Rice porridge <3 our baby. Especially when grandma makes it with whole milk in the oven, its perfect. Its as good as dessert but u get to eat it in the morning, and christmas wouldnt be the same without it. OO and the best part is that theres always an almond in the porridge and whoever gets it can make a wish. Our secret is to eat as much as it takes to get the almond. It works every time.
Glögi. The non-alcoholic one ofc.. Theres nothing better than coming home from the freezing outdoors and having some hot glögi under a blanket. And watch friends while doing this but you guys already know that thats a given. The glögi season is long, all the way from november to january. At least for us bagels.
Ok this was a very brief Christmas special, since this is our christmas break and we're extremely busy doing nothing. Enjoy the holiday season, or whats left of it anyways.
Christmas cheer for everyone near, like CSB (christmas spice bagel, for the day) so often puts it.
Yours truly,
IB's