Oh yes. Once again it is October 31st, which means that greedy fat kids all around the world are putting on a hat or something and going around the neighbours' houses screaming TRICK OR TREAT! And if youre a bit older its a perfect excuse for dressing slutty and getting crunk WHAT? Yeah so in honour of this beautiful tradition us pumpkins (were bagels pretending to be pumpkins because its halloween HAHA FUNNY RIGHT) are going to go through a few great halloween food ideas for parties or just for eating by yourself if you have no friends :)
So first of all, traditional PUMPKIN PIE (A huuuge favourite with us pumpkins ;) )
Ingredients
1 (9 inch) unbaked deep dish pie crust
3/4 cup white sugar
1 teaspoon ground cinnamon
1/2 teaspoon salt
1/2 teaspoon ground ginger
1/4 teaspoon ground cloves
2 eggs
1 (15 ounce) can LIBBY'S® 100% Pure Pumpkin
1 (12 fluid ounce) can NESTLE® CARNATION® Evaporated Milk
Directions
Preheat oven to 425 degrees F.

Combine sugar, salt, cinnamon, ginger and cloves in small bowl. Beat eggs lightly in large bowl. Stir in pumpkin and sugar-spice mixture. Gradually stir in evaporated milk. Pour into pie shell.

Bake for 15 minutes. Reduce temperature to 350 degrees F.; bake for 40 to 50 minutes or until knife inserted near center comes out clean. Cool on wire rack for 2 hours. Serve immediately or refrigerate. (Do not freeze as this will cause the crust to separate from the filling.)
And heres a picture just so it doesnt look so boring
Next, which is a must at every halloween party: dundundunnn CANDY CORN!
Something CSP (CS pumpkin, try to keep up) remembers was a big hit in Britain was TOFFEE APPLES! They areeee delish and kinda spooky? okay theyre not spooky but they ARE delish!
Theyre easy to make too! Just push a stick through the apples and dip them in hoooot hot hot caramel :) mm yes it is an orgasm for your tongue people (not in the way you perverts are thinking about it´.. or is that just us pumpkins..?)
ANYWAY HERES A PICTURE COS A PICTURE TELLS YOU MORE THAN 1000 WORDS
Now because were so creative, we can practically think of any food and make it halloweeny (yes halloweeny is a word just like helly HAHAHAHAH okay that was an inside you wouldnt understand) Think cupcakes, cookies, lollipops, punch and normal drinks but in a more spooooooky way ;) heres a few examples: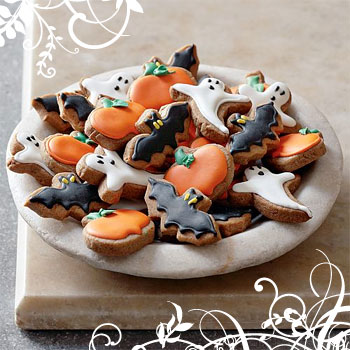 (of course the punch and shots are only meant for our adult readers) but we hope you enjoyed our halloween special and remember not to eat too much candy ;)
til we meet again
- pumpkins!